This is a place for books that I didn't fully review.
Maybe I listed my likes and dislikes, had a little short paragraph, or a few sentences to convey my feelings on the book, but whatever the "review" is, all of them are short and simple. (hence the clever name)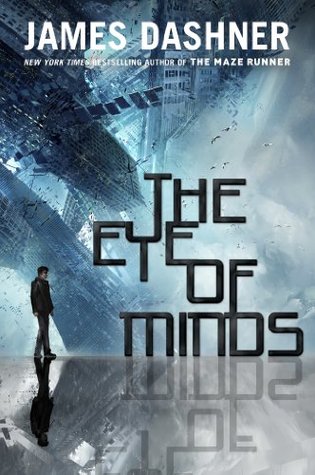 An all-new, edge-of-your seat adventure from James Dashner, the author of the New York Times bestselling Maze Runner series, The Eye of Minds is the first book in The Mortality Doctrine, a series set in a world of hyperadvanced technology, cyberterrorists, and gaming beyond your wildest dreams . . . and your worst nightmares.


Michael is a gamer. And like most gamers, he almost spends more time on the VirtNet than in the actual world. The VirtNet offers total mind and body immersion, and it's addictive. Thanks to technology, anyone with enough money can experience fantasy worlds, risk their life without the chance of death, or just hang around with Virt-friends. And the more hacking skills you have, the more fun. Why bother following the rules when most of them are dumb, anyway?


But some rules were made for a reason. Some technology is too dangerous to fool with. And recent reports claim that one gamer is going beyond what any gamer has done before: he's holding players hostage inside the VirtNet. The effects are horrific—the hostages have all been declared brain-dead. Yet the gamer's motives are a mystery.


The government knows that to catch a hacker, you need a hacker.
And they've been watching Michael. They want him on their team.
But the risk is enormous. If he accepts their challenge, Michael will need to go off the VirtNet grid. There are back alleys and corners in the system human eyes have never seen and predators he can't even fathom—and there's the possibility that the line between game and reality will be blurred forever.
Goodreads
/
Amazon
/
Barnes & Noble
Review
I admit it, I had no idea what this book was about before picking it up, but I loved
The Maze Runner
so I decided to pick up this book!
I don't regret it. While I didn't adore this book, I did end up liking it. I oddly like the video game like quality of the book. I also LOVED how it ended! It was shocking, surprising and an overall awesome plot twist!!! Sorry, I love plot twists!
Though, I did have an issue connecting with the characters. They just felt too flat.
But I will be continuing this series.
3 Wheels
Meaning: I liked it



Salvage is a thrilling, surprising, and thought-provoking debut novel that will appeal to fans of Across the Universe, by Beth Revis, and The Handmaid's Tale, by Margaret Atwood. This is literary science fiction with a feminist twist, and it explores themes of choice, agency, rebellion, and family.

Ava, a teenage girl living aboard the male-dominated, conservative deep space merchant ship Parastrata, faces betrayal, banishment, and death. Taking her fate into her own hands, she flees to the Gyre, a floating continent of garbage and scrap in the Pacific Ocean.




This is a sweeping and harrowing novel about a girl who can't read or write or even withstand the forces of gravity. What choices will she make? How will she build a future on an earth ravaged by climate change?
Review
This book seems to be either a hit or a miss to most people. For me, it's obviously the former. How much people like this book probably depend on your expectations of this book. If you're looking for a fast-paced sci-fi adventure, this is not the book from you. This is a book that while it takes place in the future and, at least partially, in space, it does not speak like most sci-fi book. This is more of a coming of age story in a sci-fi environment, which is way I loved this book so much.
It was hard to get into this book. This is a very slow-paced book and in the beginning, that really irritated me. I was not a fan of Ava. I saw her as a naive girl prone to stupid decisions. Granted, the way she was raised, it's easy to see why she's that way, but I was still annoyed with her, but by the end of this book I had tears in my eyes.
This is such a beautiful book. Ava grows so much throughout the story and I found it amazing to see it happen. If you like coming of age stories, I strongly recommend this one. It's different than usual ones, but it is such a great book!
5 Wheels!
Meaning: A new favorite!