This is a place for books that I didn't fully review.
Maybe I listed my likes and dislikes, had a little short paragraph, or a few sentences to convey my feelings on the book, but whatever the "review" is, all of them are short and simple. (hence the clever name)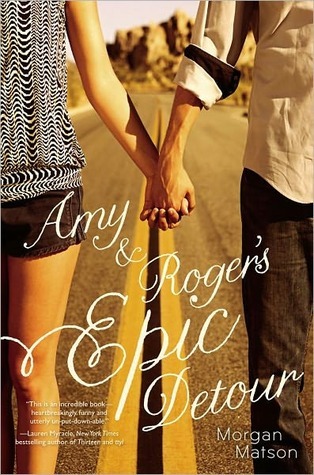 Amy Curry is not looking forward to her summer. Her mother decided to move across the country and now it's Amy's responsibility to get their car from California to Connecticut. The only problem is, since her father died in a car accident, she isn't ready to get behind the wheel. Enter Roger. An old family friend, he also has to make the cross-country trip - and has plenty of baggage of his own. The road home may be unfamiliar - especially with their friendship venturing into uncharted territory - but together, Amy and Roger will figure out how to map their way.
Goodreads
/
Amazon
/
Barnes & Noble
Review
This is the perfect contemporary and the perfect road trip book!
This was my first Morgan Matson book, but certainly not my last! I have since read all of Moran's other books and adored them all! This one, though, still remains as my favorite!
It's fun, with a romance to root for, an amazing road trip, and it even has more serious aspects, but all in all it's a great summer read that will leave you with a good feeling when you finish it!
I highly recommend this book and anything else by Morgan Matson!
5 Wheels!
Meaning: A new favorite!
Lina is just like any other fifteen-year-old Lithuanian girl in 1941. She paints, she draws, she gets crushes on boys. Until one night when Soviet officers barge into her home, tearing her family from the comfortable life they've known. Separated from her father, forced onto a crowded and dirty train car, Lina, her mother, and her young brother slowly make their way north, crossing the Arctic Circle, to a work camp in the coldest reaches of Siberia. Here they are forced, under Stalin's orders, to dig for beets and fight for their lives under the cruelest of conditions.


Lina finds solace in her art, meticulously--and at great risk--documenting events by drawing, hoping these messages will make their way to her father's prison camp to let him know they are still alive. It is a long and harrowing journey, spanning years and covering 6,500 miles, but it is through incredible strength, love, and hope that Lina ultimately survives. Between Shades of Gray is a novel that will steal your breath and capture your heart.
Review
This is one of the few books that I have ever read that have really affected me. I was completely unaware of the events of this book and, yeah, this book is fiction, but it is based on true events, people were in very similar situations to Lina and her family.
All in all, this is not a very enjoyable book as this book focuses on very hard topics, but it is an extremely powerful, beautiful, and emotional read that is guaranteed to change you. I highly recommend it!