This is a place for books that I didn't fully review.
Maybe I listed my likes and dislikes, had a little short paragraph, or a few sentences to convey my feelings on the book, but whatever the "review" is, all of them are short and simple. (hence the clever name)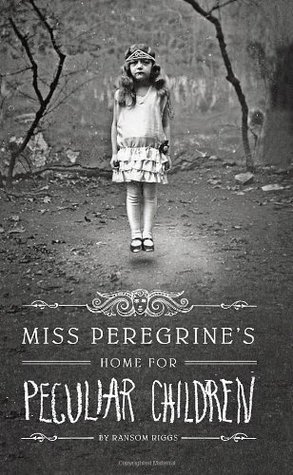 A mysterious island. An abandoned orphanage. A strange collection of very curious photographs.


It all waits to be discovered in Miss Peregrine's Home for Peculiar Children, an unforgettable novel that mixes fiction and photography in a thrilling reading experience. As our story opens, a horrific family tragedy sets sixteen-year-old Jacob journeying to a remote island off the coast of Wales, where he discovers the crumbling ruins of Miss Peregrine's Home for Peculiar Children. As Jacob explores its abandoned bedrooms and hallways, it becomes clear that the children were more than just peculiar. They may have been dangerous. They may have been quarantined on a deserted island for good reason. And somehow—impossible though it seems—they may still be alive.


A spine-tingling fantasy illustrated with haunting vintage photography, Miss Peregrine's Home for Peculiar Children will delight adults, teens, and anyone who relishes an adventure in the shadows.
Review
I was surprised by this book, in both a good way and a bad way.
I was surprised at first because I was lead to believe that this would be a horror book filled with creepy pictures. This was not a horror book. The pictures were not creepy. And you might find this strange, but I was disappointed! I was looking forward to getting my pants scared off! But nope, this was not a scary book. This is actually more of a paranormal/sci-fi read than a horror.
Now, I was also surprised by the sci-fi mixed in! This part I really liked! I don't want to go too far into it, because of spoilers but <highlight to view spoiler>
TIME TRAVEL!!! One of my favorite things in books and it was incorporating so uniquely into this book! GAH! I loved it!
<end of spoiler
>
But this was an insanely unique read. The pictures only added to the unique-ness of the story! And yes, I loved the pictures too! I think the pictures were great part of telling the story!
I did have issues with some of the characterization and the romance was just weird, but overall, this was a really great book!
I don't like going too far into why I liked this book, because I went into this book without knowing practically anything and it worked out well for me!
I hereby give this book
4 Wheels!
Meaning: I was amazing!
The first kidnappings happened two hundred years before. Some years it was two boys taken, some years two girls, sometimes one of each. But if at first the choices seemed random, soon the pattern became clear. One was always beautiful and good, the child every parent wanted as their own. The other was homely and odd, an outcast from birth. An opposing pair, plucked from youth and spirited away. This year, best friends Sophie and Agatha are about to discover where all the lost children go: the fabled School for Good & Evil, where ordinary boys and girls are trained to be fairy tale heroes and villains. As the most beautiful girl in Gavaldon, Sophie has dreamed of being kidnapped into an enchanted world her whole life. With her pink dresses, glass slippers, and devotion to good deeds, she knows she'll earn top marks at the School for Good and graduate a storybook princess. Meanwhile Agatha, with her shapeless black frocks, wicked pet cat, and dislike of nearly everyone, seems a natural fit for the School for Evil.


But when the two girls are swept into the Endless Woods, they find their fortunes reversed—Sophie's dumped in the School for Evil to take Uglification, Death Curses, and Henchmen Training, while Agatha finds herself in the School For Good, thrust amongst handsome princes and fair maidens for classes in Princess Etiquette and Animal Communication.. But what if the mistake is actually the first clue to discovering who Sophie and Agatha really are…?


The School for Good & Evil is an epic journey into a dazzling new world, where the only way out of a fairy tale is to live through one.
Review
This is probably one of the weirdest books I have ever read!
BUT I FREXING LOVED IT!
It's hard for me to write a review of this book in comprehensible way, so please bear with me.
I'm actually writing this review shorty after I read the sequel,
A World Without Princes
. After reading, and while reading, A World Without Princes, I remember how much I loved the first book, this book. This is not a tiny book almost 500 pages, and I practically read this book IN ONE SITTING! Yes, I was so deeply immersed in this book that I just didn't want to stop reading!
The ideas in this book were completely unique and original, it has a beautiful focus on friendship, the characters grow and change, and there were even illustrations at the beginning of each chapter! (Sorry, I love illustrations. And maps. I actually have the map featured in this book on my wall...)
I did have issues with the end, in the fact that it was very confusing, but the sequel cleared things up for me.
So, yes, I loved this book! It has definitely become one of my favorite series! Although, I must admit it's not for everyone, but if you like unique, friendship focused books that may be a bit strange, I definitely urge you to pick this book up!
5 Wheels!
Meaning: A new favorite!