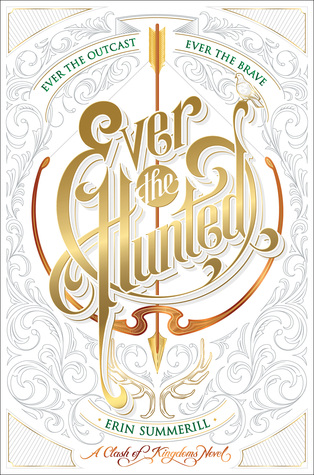 Seventeen year-old Britta Flannery is at ease only in the woods with her dagger and bow. She spends her days tracking criminals alongside her father, the legendary bounty hunter for the King of Malam—that is, until her father is murdered. Now outcast and alone and having no rights to her father's land or inheritance, she seeks refuge where she feels most safe: the Ever Woods. When Britta is caught poaching by the royal guard, instead of facing the noose she is offered a deal: her freedom in exchange for her father's killer.

However, it's not so simple.

The alleged killer is none other than Cohen McKay, her father's former apprentice. The only friend she's ever known. The boy she once loved who broke her heart. She must go on a dangerous quest in a world of warring kingdoms, mad kings, and dark magic to find the real killer. But Britta wields more power than she knows. And soon she will learn what has always made her different will make her a daunting and dangerous force.
MY THOUGHTS
This was an okay read. It wasn't bad, but it wasn't what I was expecting.
This book focuses on Britta. Her father was recently murdered and since her mother was Shaerdan, Britta is considered illegitimate and has no claims to her father's property. Starving, Britta hunts on the king's land, but is caught and is set to hang. But she can be free to live and gain rights to her father's property if she tracks down her father's killer. The problem: They tell her that Cohen, the boy she once loved, killed her father. Did he really kill her father? And could she really trade his trade for hers?
This book is set up to be a pretty awesome fantasy, but it just didn't meet the mark. I admit, the ideas were all there and I do think that Summerhill did a pretty great job on worldbuilding, but it just wasn't as awesome as I thought it would be. It's a fine fantasy, but it didn't feel like anything new. Also, it was just so predictable.
My main problem was with the characters. Everyone seems to think Britta is a badass, but she just felt like the average YA heroine. Sure, she could hunt and whatnot, but she wasn't amazing. Cohen was also just like every YA love interest. Frankly, I really didn't care about him. I cared a little for Britta because she had a hard life, but Cohen just served as the love interest for most of the book.
Which brings me to the romance. I did not like the romance at all. I didn't hate it, but it was just pointless. Britta spends the entire book thinking about Cardboard Cohen! Shouldn't you stop questioning your feelings and focus on more important things, Britta? Cohen, of course, is your typical love interest. Pushes Britta away to "protect her". Enough of that crap! Anyway, I was sick of the conflicting feelings between them because we all knew, right when we found out that Cohen used to be friends with Britta, that they would end up together. Frankly, I think I would've have enjoyed this book more without the romance.
While the ending was slightly predictable, the very very VERY end was quite interesting. It makes me very curious about the next book. Though, I am worried that there will be a love triangle.
IN CONCLUSION
Overall, I liked this book but I was expected more. I wanted a unique fantasy, not a typical YA romance.
I hereby give this book
3 Stars
Meaning: I liked it.