This is a place for books that I didn't fully review.
Maybe I listed my likes and dislikes, had a little short paragraph, or a few sentences to convey my feelings on the book, but whatever the "review" is, all of them are short and simple. (hence the clever name)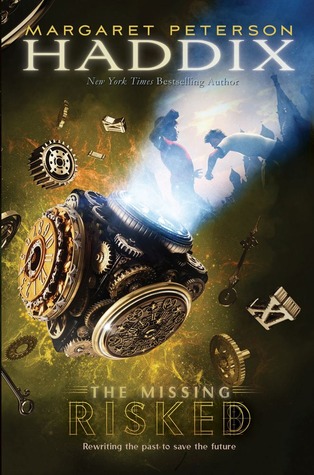 Jonah thought that after his last adventure in 1903, he and his sister Katherine would have a break from time travel for a while. For the first time, he's willing to look into his own identity in the past, and he thinks this is his chance.

But he barely has time for a single Google search before he, Katherine, and their friend Chip are tricked and zapped back to 1918--and to the house where the Romanov family was imprisoned after the Russian Revolution. Trapped without a fully working Elucidator, the three kids still hope they can escape and save the lives of Anastasia and Alexei Romanov.

But is it possible to change time that much when modern-day scientists have identified the entire Romanov family's remains?
Goodreads
/
Amazon
/
Barnes & Noble
/
Book Depository


Review
I used to love this series and I remember being so excited for this book to come out. Yet, it has been six years since and I just now gotten around to reading this book. Why did it take so long for me to read this? I have no clue. But, even though it has been so long since I have read this series, I was surprised by how much I remembered. As each book also usually focuses on a different time period and a different missing child, it feels like a contained adventure within a larger story. In that sense, I did not have to remember every single period or missing child from the previous book which made it easy for me to jump back into this series. This specific book takes place in 1918 with Anastasia and Alexei Romanov as the missing children. I did like this book, I had difficulty putting it down and there are a lot of complicated elements nearing the end of the book. I like how Haddix always includes an author's note detailing the actual historical events and where she took liberties (and why). I did not give this one as high of a rating as the previous books but I'm not sure if that means this wasn't as great as the others or if I'm just pickier now about what books get five stars. All in all, I still really like this series and the next time I go to the library I'm definitely checking out the next two books.
Meaning: I really liked it



An adoptee raised in a foreign land, sixteen-year-old Lianne was content with her life as
handmaiden to the queen, until a spell cast on her at birth activated. Now she's filled with uncontrollable rage and access to magic she thought had been bled from her people years ago. Even her years of secret training in elite hand-to-hand combat and meditation can't calm the fires raging inside her.

Her heart is torn between two boys, the one she's always loved and the one who always ignored her. But when the kingdom threatens to tear itself apart due to rumors surrounding the queen's alleged affair, who will Lianne protect and who will she destroy?


Goodreads
/
Amazon
/
Barnes & Noble
When I first started this book the premise seemed promising and I was actually interested in finding out where the story would go, but the more I read the less I liked it. Plot developments stopped making sense and the pacing was just too fast to connect with what was happening. As things sped up, character interactions felt less realistic. Pretty much any climactic moment was shortened such that I need to get a real understanding of how the characters really felt. If they did show any emotions, it was like a switch of emotion being turned on, such as Lianne instantly falling in love for someone, someone agreeing to something way too quickly, etc. By the end of the book, I was tired of it. I don't plan on continuing this series.
Meaning: It was okay

When he's sent to Latham House, a boarding school for sick teens, Lane thinks his life may as well be over.
But when he meets Sadie and her friends - a group of eccentric troublemakers - he realises that maybe getting sick is just the beginning. That illness doesn't have to define you, and that falling in love is its own cure.
Review
I found myself surprised by how invested I got into this book. The writing was so atmospheric that I felt like I was on the grounds of the school. There's the dual POV of Lane and Sadie and when it first starting shifting viewpoints I wasn't sure, but I loved both of the characters and their viewpoints were both uniquely theirs. The concept of this book is interesting as it takes place in almost an alternate world where TB is still very common, incurable, and teens with TB are sent to a special boarding school, but it is overall a contemporary. It has strong themes of friendship, romance, and unity, but there is a melancholy feeling throughout the story. The story does deal with death, and I mean that mainly by how the main characters feel about death. There are points where the main characters do worry about whether they have been given a death sentence and there is even a point with Lane where someone from home is so sure about his death that she writes about how his death will affect her, so they must deal with the opinions of others that don't have TB. But, there is overall a need to still be yourselves and someone despite this diagnosis. This was a sad, but very compelling book and while this was not my first book by Robyn Schneider, after this one I most certainly will be keeping an eye open for more books by her.
Meaning: I really liked it