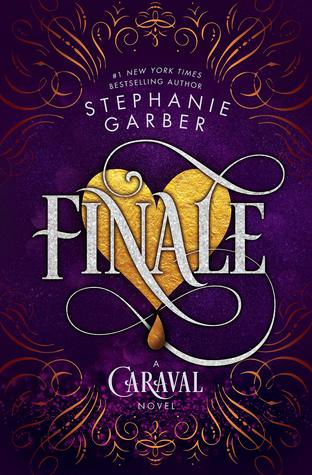 Welcome, welcome to Finale, the third and final book in Stephanie Garber's #1 New York Times bestselling Caraval series!

A love worth fighting for. A dream worth dying for. An ending worth waiting for.

It's been two months since the Fates were freed from a deck of cards, two months since Legend claimed the throne for his own, and two months since Tella discovered the boy she fell in love with doesn't really exist.

With lives, empires, and hearts hanging in the balance, Tella must decide if she's going to trust Legend or a former enemy. After uncovering a secret that upends her life, Scarlett will need to do the impossible. And Legend has a choice to make that will forever change and define him.

Caraval is over, but perhaps the greatest game of all has begun. There are no spectators this time: only those who will win, and those who will lose everything.

Welcome, welcome to Finale. All games must come to an end…
MY THOUGHTS
Reviews seemed to be mixed when it comes to this book, either you absolutely loved it, or you don't. I, for one, absolutely loved this book! Once I entered this world I didn't want to stop reading it!
This book is divided into two POV's, Tella's and Scarlett's. To be honest, I preferred Tella's viewpoint. This may be because I loved
Legendary
more than
Caraval
, but at the beginning of the book there wasn't really a whole lot going on with Scarlett's POV. She was mainly reacting to things and acting upset with Julian in the beginning. As the story progressed, she did actually become a major player, but I was still more interested in Tella's perspective. Tella's chapters oftentimes had more agency, more heart, and I couldn't always guess what she was going to do. Tella is also so much more outspoken and I felt like her emotions were more complex. With Scarlett, I knew that she was going to end up with Julian, with Tella... there was a lot more going on. I will say that with both characters there has been a lot of change and one of my favorite parts about this series is that it is focused on a pair of sisters.
Now, I gotta talk about the romance, because you know there's romance. Again, with Scarlett, there wasn't much of a mystery there. There was kind of a love triangle, but not really. With Tella, there was a lot going on. When it came to the romance in Tella's POV I had no clue where it was going to head. She is still upset with Legend throughout most of the book and Jacks is also hanging around. I wouldn't call this a love triangle because there is a lot more complicated emotions here than a typical love triangle. Jacks, as a Fate, is not exactly a great guy, but he and Tella are connected together in some way. This book really played with my emotions and the Tella and Jacks situation was certainly one such case. I did not want them to be together, but I also was really interested in some of the scenes in which they interacted. A lot of confusing emotions in this book. I like Dante in the last book, but he is more Legend in this book than Dante. He has quite a few flaws and I don't really agree with some of the things he did, but, yeah, still wanted to ship it.
IN CONCLUSION
Overall, I really loved this book and I didn't want to stop reading it! This was so much different than the last few books, the events were on a grander scale, and I just loved following these characters. There is a hint in this book that made me wonder if there will be a spin-off series, and I really hope there is, but whether there is a spin-off series or not, I do want to read more from Stephanie Garber.


5 Stars!
Meaning: A new favorite!