This is a place for books that I didn't fully review.
Maybe I listed my likes and dislikes, had a little short paragraph, or a few sentences to convey my feelings on the book, but whatever the "review" is, all of them are short and simple. (hence the clever name)




Meet Sloane Emily Jacobs: a seriously stressed-out figure-skater from Washington, D.C., who choked during junior nationals and isn't sure she's ready for a comeback. What she does know is that she'd give anything to escape the mass of misery that is her life.

Now meet Sloane Devon Jacobs, a spunky ice hockey player from Philly who's been suspended from her team for too many aggressive hip checks. Her punishment? Hockey camp, now, when she's playing the worst she's ever played. If she messes up? Her life will be over.

When the two Sloanes meet by chance in Montreal and decide to trade places for the summer, each girl thinks she's the lucky one: no strangers to judge or laugh at Sloane Emily, no scouts expecting Sloane Devon to be a hero. But it didn't occur to Sloane E. that while avoiding sequins and axels she might meet a hockey hottie—and Sloane D. never expected to run into a familiar (and very good-looking) face from home. It's not long before the Sloanes discover that convincing people you're someone else might be more difficult than being yourself.




Goodreads
/
Amazon
/
Barnes & Noble
/
Book Depository
Review
I picked this book up from a library sale. I liked Meant to Be and I was hearing good things about this one so I figured, why not? The book has an interesting premise. Two girls, both named Sloane Jacobs, are each having their own problems and neither are looking forward to their summers. After a chance encounter, the two decide to switch places, one going to hockey camp, the other ice-skating. All in all, it is a cute read and I liked seeing both Sloane change throughout the story. But, there wasn't really much else. I wasn't as immersed in the book as I wanted to and while I rooted for both Sloanes, neither were that memorable. I did like this book and its a good contemporary-romance, but there's not much else I can say about it.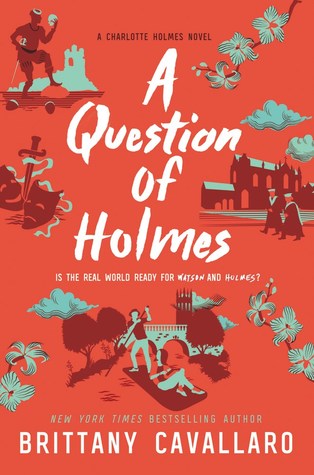 The fourth book in the New York Times bestselling Charlotte Holmes series!

Charlotte Holmes and Jamie Watson think they're finally in the clear. They've left Sherringford School—and the Moriartys—behind for a pre-college summer program at Oxford University. A chance to start from scratch and explore dating for the first time, while exploring a new city with all the freedom their program provides. But when they arrive, Charlotte is immediately drawn into a new case: a series of accidents have been befalling the members of the community theater troupe in Oxford, and now, on the eve of their production of Hamlet, they're starting all over again. What once seemed like a comedy of errors is now a race to prevent the next tragedy—before Charlotte or Jamie is the next victim.
Goodreads
/
Amazon
/
Barnes & Noble
/
Book Depository
What I loved about this book is that it is entirely in Charlotte's perspective. I just love how this series started with Jamie's POV, had dual POV in the middle, and ended with Charlotte's POV. I loved reading this book in her perspective and it was a great way to close the series. I actually think I like her narration better than Jamie's. As for the mystery of this book, I was a bit disappointed by the mystery. It wasn't up to par with the mystery of the other books and it felt more like background noise. It also didn't feel resolved to me. This book had a much larger focus on the characters rather than the mystery. While I know it may be an unpopular opinion, I have been hesitant about Charlotte and Jamie getting together because I like their dynamic as is and I'm a bit tired of books forcing romance onto characters. I do think this series handled the situation differently and really took into account what the characters were feeling (nothing felt forced). The book has a bit of an upon-ended ending but I liked the way it ended. I do plan on reading more from Cavallaro in the future.
Meaning: I liked it, but wasn't quite amazing.