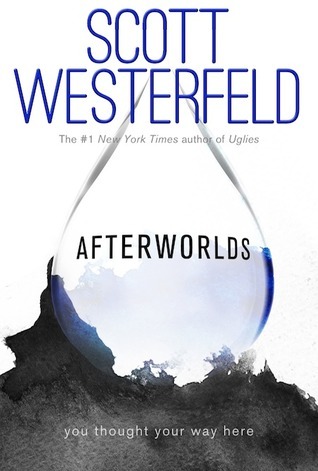 Darcy Patel has put college and everything else on hold to publish her teen novel, Afterworlds. Arriving in New York with no apartment or friends she wonders whether she's made the right decision until she falls in with a crowd of other seasoned and fledgling writers who take her under their wings…


Told in alternating chapters is Darcy's novel, a suspenseful thriller about Lizzie, a teen who slips into the 'Afterworld' to survive a terrorist attack. But the Afterworld is a place between the living and the dead and as Lizzie drifts between our world and that of the Afterworld, she discovers that many unsolved - and terrifying - stories need to be reconciled. And when a new threat resurfaces, Lizzie learns her special gifts may not be enough to protect those she loves and cares about most.
MY THOUGHTS
This was such an interestingly told book and even though I only gave it 3/5, I know it will stick with me.
This book is a brick at 600 due to the fact that this book is two books in one. There's Darcy, who wrote her book
Afterworlds
during NaNoWriMo (it was never mentioned as NaNoWriMo, but it was written in 30 days in the month of November, so I'm assuming). Her book gets sold to a publisher in a two book deal and she decides to put off college for a year and move to New York to meet authors and work on her book. Then there's Lizzie. After a terrorist attack in an airport, Lizzie survives my accidentally transporting herself to the Afterworld. What do this two have in common? Lizzie is the main character in Darcy's book.
What's interesting about this book is that we get to hear what's going on in Darcy's life as well as actually get to read the story that is changing her life. To be honest, this book wouldn't be able to work without both stories. Darcy's book is a huge part of her life and we can't fully understand her life without it.
Darcy
It's odd that I mainly wanted to read this book because of her book, but I ended up enjoying Darcy's life more than Lizzie's. I am very interested in the world of publishing and the life of an author, with is harder than it seems (Like every other booknerd, I plan on working in publishing and am currently writing a book). I thought it was very interesting to see this. What I liked the most was how real it was. Darcy's new start is not that easy and it's not skipped off. The romance also was very real and, surprisingly, it was a lesbian romance which made me very happy! There's not enough of those in YA!
Darcy's story is also a bit of a coming of ago story. It shows how much Darcy grows and turns into an adult.
My only issue was that I questioned how much an average reader would understand. ARCs, BEA, TBR, and other things from the blogging and publishing world are thrown around. I understand these because I'm so immersed in the blogging world and Goodreads, but would an average reader who doesn't ever follow a blog or have a Goodreads account?
Lizzie
I had issues with Lizzie's story. It sounded like my kind of thing, as I love books with the afterlife, but it feel flat. It began greatly, but the characters didn't seem well-developed (especially Yama) and the entire story seemed to be going everywhere. It could be the fact that it's a paranormal romance and I'm not a fan of those anymore, but I just couldn't connect with the story.
There was, supposedly, a romance, but it was, again, undeveloped. Yama was just a random hot guy, thousands of years old, who popped up at random moments to give Lizzie answers and kiss. They loved each other, apparently, but I never got that vibe off them.
The story was okay, but if I read Darcy's book, it would only get 2 stars from me.
IN CONCLUSION
This was a very interesting read and while it did take awhile to get through, I do think it was worth it, at least to hear Darcy's story. I didn't particularly enjoy Lizzie's story, but I loved hearing how Darcy was becoming an author! If you are curious about publishing and writing books, then this book is worth a chance!
3 Wheels
Meaning: I liked it