Okay, so I'm horrible at finishing series and my TBR list is over a thousand books long. So, there are a lot of books that I haven't gotten a chance to read. Here we go...
The Ones that Have LITERALLY Sat On My Shelf For More Than Four Years
The story is the same for all three of these. I read the previous book in the series and immediately bought the next book! I bought Spiral the day it came out (May 2012), Masquerade was bought either late 2011 or early 2012, and Betrayal was also bought May 2012. With all of these, I would need to reread the previous books in order to start up again. Which sucks for Spiral, since that's the 5th book in a series of bricks.
Some Other Series That I Never Seemed to Continue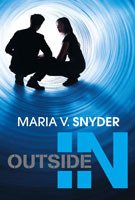 It may be obvious by now that I am horrible at finishing series. I never bought any of these books, but all of these were added to my TBR shortly after I joined Goodreads in March of 2012, which means that I actually put off some of these books for more than 4 years (I have no idea how long for sure because before Goodreads was a dark time). Sad thing is, while some of these series were meh, I actually really enjoyed some of these..
There are some other books from early Goodreads that I haven't gotten a chance to read, but those are all stand alones or first books, so I don't feel as if hope is lost! Now, I bet there are plenty of bloggers who've had books sitting on their shelves for a decade or more, but before Goodreads, I spontaneously checked out books from the library and actually completed series!
So, what books have been on your TBR for a few years?