Ello! So, I've had this pretty stupid idea that I wanted to do for awhile now and today is the day where I decided, why not? You may or may not be familiar with the Doge meme, featuring a cute dog saying things like "wow", "such grass", "much green', and other such things. My friends and I have a bad habit of talking like Doge, so that gave me the idea to write Doge Book Reviews. I used to write Short&Simple Reviews, but this is a fun way for me to write short reviews. Basically, Doge will give his thoughts on the book and I will translate for him.
Today Doge will be reviewing...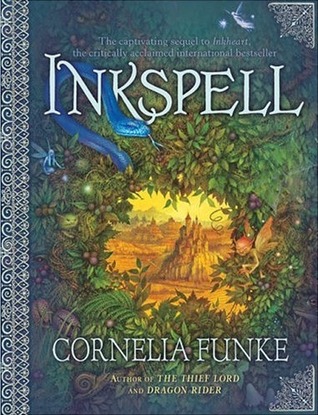 The captivating sequel to INKHEART, the critically acclaimed, international bestseller by Cornelia Funke, an author who is emerging as a truly modern classic writer for children.
Although a year has passed, not a day goes by without Meggie thinking of INKHEART, the book whose characters became real. But for Dustfinger, the fire-eater brought into being from words, the need to return to the tale has become desperate. When he finds a crooked storyteller with the ability to read him back, Dustfinger leaves behind his young apprentice Farid and plunges into the medieval world of his past. Distraught, Farid goes in search of Meggie, and before long, both are caught inside the book, too. But the story is threatening to evolve in ways neither of them could ever have imagined.
Translation
Doge enjoyed Inkheart, but Doge thought that this sequel so even better! In this book, the characters travel inside the actual book. Doge likes it when books are within books and really liked how this was done. He especially liked the world created and how Meggie and the author could change things. Doge was in tears by the end of the book! So much happened and events transpired...
Overall, Doge thought this was interesting and unique! Doge will definitely be continuing the series.
4/5 pawprints!