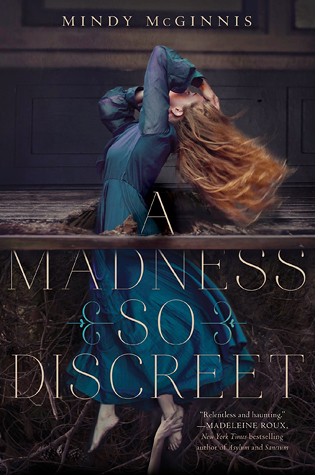 Grace Mae knows madness.




She keeps it locked away, along with her voice, trapped deep inside a brilliant mind that cannot forget horrific family secrets. Those secrets, along with the bulge in her belly, land her in a Boston insane asylum.




When her voice returns in a burst of violence, Grace is banished to the dark cellars, where her mind is discovered by a visiting doctor who dabbles in the new study of criminal psychology. With her keen eyes and sharp memory, Grace will make the perfect assistant at crime scenes. Escaping from Boston to the safety of an ethical Ohio asylum, Grace finds friendship and hope, hints of a life she should have had. But gruesome nights bring Grace and the doctor into the circle of a killer who stalks young women. Grace, continuing to operate under the cloak of madness, must hunt a murderer while she confronts the demons in her own past.




In this beautifully twisted historical thriller, Mindy McGinnis, acclaimed author of Not a Drop to Drink and In a Handful of Dust, explores the fine line between sanity and insanity, good and evil—and the madness that exists in all of us.
MY THOUGHTS
I had very high expectations for this book. It sounded
completely
creepy and I was excited to dive in! While I did like this book, it was
definitely
not what I expected and it didn't blow me away.
Grace has been through horrific things, one of which gave her the bulge in her belly. Now, Grace is in a mental asylum to hide the family secret. Grace has kept her voice locked away until one moment when she breaks, and is sent to the cellars. A visiting doctor discovers her, seeing the intelligence in her mind, the doctor takes her with him. She's to help him study crime scenes and find killers, with a serial killer possibly on the rise.
I admit that I go into books without rereading synopsis of the book, so I was thrown when the book changed setting. I was expecting the asylum to be the major setting. That's not a big deal, really. I found the crime studies interesting and I thought this book handled madness very well! Mindy McGinnis is a wonderful writer and I also thought that the historical setting was not only interesting, but well written.
Now, to get into what I wasn't expecting. The madness in this book carried throughout this book, but the plot was surprising to me. It felt like the plot kept changing. I can't really get into the changes, less there be spoilers, but it's hard for me to get into a book when my expectations keep changing.
The characters were great and I loved Grace's character growth, but I had a hard time connecting with the characters for some reason. This book was in third person, which I always have difficulty with (with the exception of fantasy books), so that's probably why.
As for romance, THERE IS NONE! A fact that I actually liked!