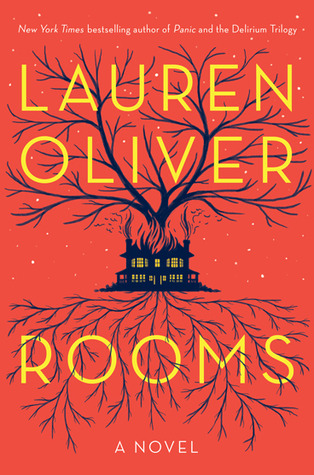 The New York Times bestselling author of Before I Fall and the Delirium trilogy makes her brilliant adult debut with this mesmerizing story in the tradition of The Lovely Bones, Her Fearful Symmetry, and The Ocean at the End of the Lane—a tale of family, ghosts, secrets, and mystery, in which the lives of the living and the dead intersect in shocking, surprising, and moving ways

Wealthy Richard Walker has just died, leaving behind his country house full of rooms packed with the detritus of a lifetime. His estranged family—bitter ex-wife Caroline, troubled teenage son Trenton, and unforgiving daughter Minna—have arrived for their inheritance.

But the Walkers are not alone. Prim Alice and the cynical Sandra, long dead former residents bound to the house, linger within its claustrophobic walls. Jostling for space, memory, and supremacy, they observe the family, trading barbs and reminiscences about their past lives. Though their voices cannot be heard, Alice and Sandra speak through the house itself—in the hiss of the radiator, a creak in the stairs, the dimming of a light bulb.

The living and dead are each haunted by painful truths that will soon surface with explosive force. When a new ghost appears, and Trenton begins to communicate with her, the spirit and human worlds collide—with cataclysmic results.
Elegantly constructed and brilliantly paced, Rooms is an enticing and imaginative ghost story and a searing family drama that is as haunting as it is resonant.
MY THOUGHTS
I love all of Lauren Oliver's other books, so I decided to pick up this book, despite my irrational fear of adult books. To be honest, this book isn't all that different that YA books. I read somewhere that the difference between YA and Adult books is just who it is written for and, yeah, this book was written for adults, but it's not all that different from YA. My point is that if you're worried about the fact that Lauren Oliver wrote an adult book and you usually stick to YA, don't worry.
Anyway, I am a bit disappointed in this book. Like I said, I love Lauren Oliver's books, so I was expecting my socks to be fully knocked on my feet. Sorry to say, my socks stayed firmly on my feet. I'm not even certain why I couldn't connect with this book, I just couldn't. Lauren Oliver is a wonderful writer and her beautiful writing is still evident in this book. My problem my dwell in the fact that this is more of a character-driven book. It's very slow-paced and has more of a literary feel. Do I like these kinds of books from time to time? Yeah, but they're not usually my thing.
If you're looking for a ghost story, turn around and search somewhere else.
This is not a ghost story.
The entire story focuses on multiple different characters, some living, some dead. All of these characters are incredibly real, by that I mean they all have flaws and they all have their own problems. And yeah, some of these characters aren't exactly likable. This book slowly introduces you to the characters and their lives all until we learn the secrets they've been hiding and the secrets that may have made them the way they are now. I think that's basically what
Rooms
is supposed to be about, the secrets we keep, and it is done very beautifully. It's just not my kind of book.
IN CONCLUSION
The writing is very beautiful and well-done, but it's also very slow-paced and character-driven. If you enjoy those kind of books, yes, pick this up. I did actually like this book, it just didn't connect to me as much as I hoped.
3 Wheels
Meaning: I liked it.