This is a place for books that I didn't fully review.
Maybe I listed my likes and dislikes, had a little short paragraph, or a few sentences to convey my feelings on the book, but whatever the "review" is, all of them are short and simple. (hence the clever name)
Samantha is a stranger in her own life. Until the night she disappeared with her best friend, Cassie, everyone said Sam had it all-popularity, wealth, and a dream boyfriend.


Sam has resurfaced, but she has no recollection of who she was or what happened to her that night. As she tries to piece together her life from before, she realizes it's one she no longer wants any part of. The old Sam took "mean girl" to a whole new level, and it's clear she and Cassie were more like best enemies. Sam is pretty sure that losing her memories is like winning the lottery. She's getting a second chance at being a better daughter, sister, and friend, and she's falling hard for Carson Ortiz, a boy who has always looked out for her-even if the old Sam treated him like trash.


But Cassie is still missing, and the facts about what happened to her that night isn't just buried deep inside of Sam's memory-someone else knows, someone who wants to make sure Sam stays quiet. All Sam wants is the truth, and if she can unlock her clouded memories of that fateful night, she can finally move on. But what if not remembering is the only thing keeping Sam alive?
Goodreads
/
Amazon
/
Barnes & Noble
Review
I've loved Jennifer L. Armentrout's other books, so it wasn't that surprised that I loved this book too.
Oddly enough, when I first saw this book around the interweb, I wasn't that inclined to pick it up. It just didn't sound like my kind of book and I'm usually not big on mysteries.
But I actually really enjoyed reading this book! I liked seeing Sam trying to remember who she was and uncover what happened. I was so into this book, desperately wanting to know what happened, that it was hard for me to put it down.
I don't know what prevented me from giving it a 5/5. I think the romance fell a little flat, but everything else was absolutely amazing!
Meaning: Almost a new favorite!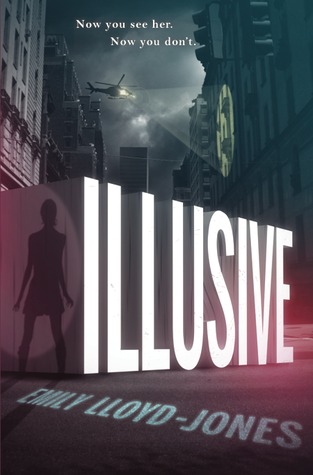 The X-Men meets Ocean's Eleven in this edge-of-your-seat sci-fi adventure about a band of "super" criminals.

When the MK virus swept across the planet, a vaccine was created to stop the epidemic, but it came with some unexpected side effects. A small percentage of the population developed superhero-like powers. Seventeen-year-old Ciere Giba has the handy ability to change her appearance at will. She's what's known as an illusionist...She's also a thief.


After a robbery goes awry, Ciere must team up with a group of fellow super-powered criminals on another job that most would consider too reckless. The formula for the vaccine that gave them their abilities was supposedly destroyed years ago. But what if it wasn't?


The lines between good and bad, us and them, and freedom and entrapment are blurred as Ciere and the rest of her crew become embroiled in a deadly race against the government that could cost them their lives.
Goodreads
/
Amazon
/
Barnes & Noble
Review
I always love to read books on superheroes and this book was no exception.
The concept was interesting, the characters were real, and overall, it was a very entertaining book.
My only issue is that the beginning is a bit draggy and slow.
Other than that, this was a fun read.
4 Stars!
Meaning:I loved it!