This is a place for books that I didn't fully review.
Maybe I listed my likes and dislikes, had a little short paragraph, or a few sentences to convey my feelings on the book, but whatever the "review" is, all of them are short and simple. (hence the clever name)
Before.

Miles "Pudge" Halter's whole existence has been one big nonevent, and his obsession with famous last words has only made him crave the "Great Perhaps" (François Rabelais, poet) even more. He heads off to the sometimes crazy, possibly unstable, and anything-but-boring world of Culver Creek Boarding School, and his life becomes the opposite of safe. Because down the hall is Alaska Young. The gorgeous, clever, funny, sexy, self-destructive, screwed-up, and utterly fascinating Alaska Young, who is an event unto herself. She pulls Pudge into her world, launches him into the Great Perhaps, and steals his heart.


After.

Nothing is ever the same.
Goodreads
Review
At first I was not a big fan of this book. All there seemed to be was drinking, sex, and drugs (there was cursing too, but i'm used to that).
I just couldn't see the point of the story.
When that point hit, it hit hard, and I finally realized why this book got so many praises.
So, yes, this was a really good book.
I hereby give this book
4 Wheels!
Meaning: It was amazing!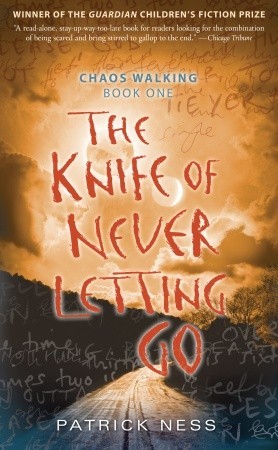 Todd Hewitt is the only boy in a town of men. Ever since the settlers were infected with the Noise germ, Todd can hear everything the men think, and they hear everything he thinks. Todd is just a month away from becoming a man, but in the midst of the cacophony, he knows that the town is hiding something from him -- something so awful Todd is forced to flee with only his dog, whose simple, loyal voice he hears too. With hostile men from the town in pursuit, the two stumble upon a strange and eerily silent creature: a girl. Who is she? Why wasn't she killed by the germ like all the females on New World? Propelled by Todd's gritty narration, readers are in for a white-knuckle journey in which a boy on the cusp of manhood must unlearn everything he knows in order to figure out who he truly is.
Review
THIS BOOK WAS ABSOLUTELY AMAZING!
When I started the book, I wasn't liking it very much.
Why is that? Well, there are a lot of misspellings and that just irked me!
But I got passed the misspellings, got used to the misspellings, and actually ended up liking the misspellings!!!
My point being:
This was one of the best books that I have read in a while!
So if you're iffy about this book, READ IT!!!!
It's definitely worth it!
I hereby give this book
5 Wheels!
Meaning: I LOVED it! A new favorite!